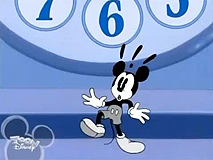 "Babysitters" is a cartoon short set on New Year's Eve. It originally aired as part of the House of Mouse episode "House of Magic".
It's New Year's Eve, as Mickey, Donald and Goofy head to the Land of Time to babysit a mischevious baby turtle named Shelby, until he ran off. Will Mickey, Donald and Goofy catch him before New Year's Day starts?
Ad blocker interference detected!
Wikia is a free-to-use site that makes money from advertising. We have a modified experience for viewers using ad blockers

Wikia is not accessible if you've made further modifications. Remove the custom ad blocker rule(s) and the page will load as expected.