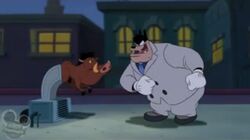 Donald's Pumbaa Prank is an April Fool's Day-themed House of Mouse episode. It premiered on March 31, 2001.
It's April Fools Day, and after Mickey plays a friendly prank on Donald, Pete takes advantage of Donald and convinces him to play a nasty prank that could shut the club down for good, which it having Pumbaa fart into the air wents.
Featured cartoons
Edit
Ad blocker interference detected!
Wikia is a free-to-use site that makes money from advertising. We have a modified experience for viewers using ad blockers

Wikia is not accessible if you've made further modifications. Remove the custom ad blocker rule(s) and the page will load as expected.