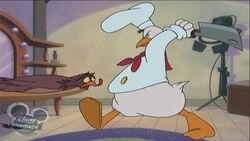 "House of Turkey" is the 44th episode of House of Mouse and the series' Thanksgiving episode. It originally aired on Toon Disney on September 2, 2002.
Mr. Turkey is a guest at the House of Mouse and is worried that some of the guests (along with Gus Goose) are wanting to eat him.
Featured cartoons
Edit
Ad blocker interference detected!
Wikia is a free-to-use site that makes money from advertising. We have a modified experience for viewers using ad blockers

Wikia is not accessible if you've made further modifications. Remove the custom ad blocker rule(s) and the page will load as expected.