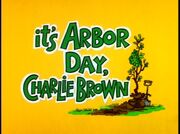 It's Arbor Day, Charlie Brown is a 1976 Arbor Day special based on the comic strip Peanuts.
To celebrate Arbor Day, everybody works together to plant a garden. Unfortunately, the garden is located in Charlie Brown's baseball field, and he has a game with Peppermint Patty's team approaching. However, Charlie Brown works to make the best of the situation by attaching baseball gloves to the trees as well as caps (to make them look like scarecrows), which results in Peppermint Patty's team being unable to score due to the large number of fly outs from the balls being hit into the gloves. Schroeder says he will kiss Lucy if she hits a home run, which he figures she will not. However, Charlie Brown is happy to see Lucy indeed hit a home run and score the only run in the game. The game is cut short by rain, and although Charlie Brown expresses agony that "We were winning!", he accepts it as a de facto victory and one of the few times his baseball team has won a game.
Ad blocker interference detected!
Wikia is a free-to-use site that makes money from advertising. We have a modified experience for viewers using ad blockers

Wikia is not accessible if you've made further modifications. Remove the custom ad blocker rule(s) and the page will load as expected.