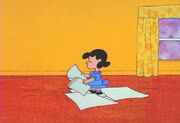 Lucy Van Pelt is a fictional character in the syndicated comic strip Peanuts, written and drawn by Charles Schulz. She is the main bully and the older sister of Linus and Rerun. Lucy is a crabby and cynical eight-year old girl, and often bullies the other characters in the strip, particularly Linus and Charlie Brown. She is often referred to as the world's greatest fussbudget, mostly by her mother.
Ad blocker interference detected!
Wikia is a free-to-use site that makes money from advertising. We have a modified experience for viewers using ad blockers

Wikia is not accessible if you've made further modifications. Remove the custom ad blocker rule(s) and the page will load as expected.