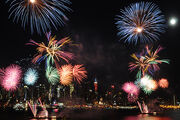 The Macy's 4th of July Fireworks Spectacular is an annual television broadcast of the Independence Day fireworks show in New York City, and has been broadcast annually either on WPIX-TV, syndication or NBC since 1977, with the exception of 1986 when the pyrotechnics were held as part of the weekend-long rededication of the Statue of Liberty. Those fireworks were broadcast on ABC as part of the coverage.
The roots of the annual Macy's fireworks show can be traced back to the Bicentennial of the United States of America, the 200th anniversary of the adaptation of the Declaration of Independence in 1976 as New York City staged an fireworks show produced by Walt Disney Productions as part of that city's celebrations on July 4th of that year. Since 1977 (save for the year 1986 as previously mentioned,) the Macy's Department Store, whose home base and main store are based in Manhattan have hosted an annual pyrotechnic celebration of America's birthday with a half-hour, 40,000 shell show from barges on either the East River or the Hudson River. The show is set to a musical soundtrack synchronizied to the pyrotechnics. From 1977 until 1999 (except for 1986), Tribune Broadcasting-owned WPIX-TV broadcast the program, with the program syndicated from about 1992 until 1999. As a part of a new contract between NBC and Macy's for the annual Thanksgiving Day Parade starting in 2000, NBC acquired national telecast rights, broadcasting them live in the Eastern and Central time zones. In 2017, the show will be broadcast live on NBC starting at 8:00pm local time, and will be visible from various parts of the East River.
Ad blocker interference detected!
Wikia is a free-to-use site that makes money from advertising. We have a modified experience for viewers using ad blockers

Wikia is not accessible if you've made further modifications. Remove the custom ad blocker rule(s) and the page will load as expected.