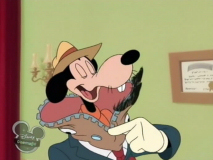 Mickey's April Fools is April Fool's Day-themed Mickey Mouse cartoon, originally aired as part of the House of Mouse episode "Donald's Pumbaa Prank".
It's April Fools Day! Mickey plays a prank on Minnie, Mortimer plays a prank on Mickey, Mickey plays a prank on Mortimer, Mortimer plays another prank on Mickey and Minnie plays a prank on Mickey. When Mickey's joke on Mortimer backfires when he inherits a million bucks, he has to prove his identity.
Characters
Edit
When shown on Disney Cinemagic, the scene with Mickey tricking Mortimer into thinking he accidentally killed him was cut.
Ad blocker interference detected!
Wikia is a free-to-use site that makes money from advertising. We have a modified experience for viewers using ad blockers

Wikia is not accessible if you've made further modifications. Remove the custom ad blocker rule(s) and the page will load as expected.