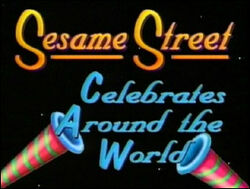 Sesame Street Stays Up Late! is a 1993 New Year's Eve television special spun off from Sesame Street, featuring guest appearances of characters from the international versions of the show. This special aired on December 29, 1993 on PBS. It was released on home video as Sesame Street Celebrates Around the World.
Everyone on Sesame Street is preparing to celebrate New Year's Eve. However Telly Monster quickly discovers that this means that the current year ends and he is happy with the year as it is. Because he gets afraid that he soon will enter an unknown year, he starts a campaign to prevent the new year to come to Sesame Street.
In the meantime, Elmo is the host of the monster news that shows how New Year's Eve is celebrated around the world. This is done by showing segments created by the Sesame characters from the different co-productions around the world.
Also, during the special, Wolfgang the Seal balances a beach ball on his nose because he was hired to be the Time Square ball. Near the end of the special, the cast did the countdown and Wolfgang removes the ball in slow motion.
Muppet Performers
Edit
Additional Muppets performed by Pam Arciero, James Kroupa, Peter Linz, Rick Lyon, Noel MacNeal, and Alison Mork
External links
Edit
Ad blocker interference detected!
Wikia is a free-to-use site that makes money from advertising. We have a modified experience for viewers using ad blockers

Wikia is not accessible if you've made further modifications. Remove the custom ad blocker rule(s) and the page will load as expected.