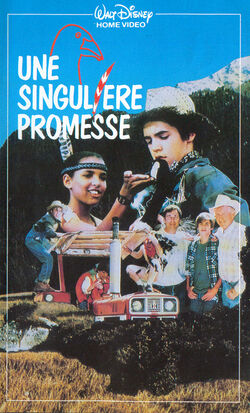 The Thanksgiving Promise is a television-made drama movie, was originally aired on The Disney Sunday Movie on ABC on Sunday Night, November 23, 1986.
The Cast
Edit
Beau Bridges...Hank Tilby
Millie Perkins...Lois Tilby
Courtney Thorne-Smith...Sheryl
Ed Lauter...Coach Gruniger
Anne Haney...Mrs. Sudsup
Beau Dremann...Alec
Bill Calvert...Jason Tilby
Jordan Bridges...Travis Tilby
Jason Bateman...Steve Tilby
Lloyd Bridges...Stewart Larson
Jason Naylor...Arnold
Jessica Puscas...Jenni Tilby
Joshua Bryant...Sam the Vet
Zero Hubbard...Jeff
Tina Caspary...1st Girl
Scott Nemes...1st Boy
Kiblena Peace...Emily
Mark Clayman...Tommy
Dorothy Dean Bridges...Aggie Larson
Allan Dietrich...Square Dance Caller
Lucinda Jany...Neighbor Lady
Leonard P. Geer...Old Man
Jeff Bridges...Neighbor (uncredited)
External links
Edit
Ad blocker interference detected!
Wikia is a free-to-use site that makes money from advertising. We have a modified experience for viewers using ad blockers

Wikia is not accessible if you've made further modifications. Remove the custom ad blocker rule(s) and the page will load as expected.