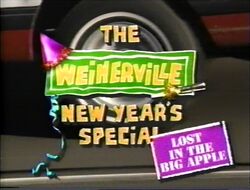 The Weinerville New Year's Special: Lost in the Big Apple is the second New Year's-themed television special spun off from the Nickelodeon comedy show Weinerville, originally broadcast on January 1, 1996.
When Marc and the Weinerville gang head to New York City for New Year's, Dottie accidentally forgets to inform them that they have to join Cocktail Frank and His Weenies to perform at Nick's New Year's Eve party and tries to get the message out to them.
Melissa Joan Hart's cameo features her reprising her role as Clarissa Darling, the title character of Clarissa Explains It All.
Ad blocker interference detected!
Wikia is a free-to-use site that makes money from advertising. We have a modified experience for viewers using ad blockers

Wikia is not accessible if you've made further modifications. Remove the custom ad blocker rule(s) and the page will load as expected.