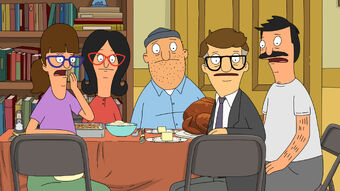 Turkey in a Can is the 2nd Thanksgiving episode of Bob's Burgers. It originally aired on 24 November 2013.
After Bob finds his turkey in the toilet, Louise tries to figure out who is guilty of ruining Thanksgiving dinner.
Store: Dr. Rangelove Stove Store
Exterminators: Oh No You Roden't Exterminators
Ad blocker interference detected!
Wikia is a free-to-use site that makes money from advertising. We have a modified experience for viewers using ad blockers

Wikia is not accessible if you've made further modifications. Remove the custom ad blocker rule(s) and the page will load as expected.